Any recipe is incomplete without including the ingredients in the sliced forms. Whether it is fruits, vegetables, meat, cheese, chocolate, etc., you need to slice them before preparing any recipe. Fortunately, now you can get rid of manually slicing these foodstuffs. This is because the electric slicers are available to meet a variety of needs. With the easy electric operation, you simply need to plug it into an electric outlet and start using it.
The ability to save time and effort makes these kitchen tools renowned in the market. At once, they can slice a huge chunk of ingredients to streamline the cooking processes. It is now not a dream to obtain precise and thin slices of your favorite ingredients. Several of these tools allow adjustment of slicing thickness as per the needs. The portability and versatility are two of the prominent specialties of these slicer tools. To streamline various cooking processes, let's get familiar with the best electric slicers:
Bestseller Electric Slicers On Amazon:
Key feature to consider for best electric slicers:
For efficient slicing, these features help you choose the best electric slicers:
Slicer size:
The physical dimensions are so much vital to consider before buying any kitchen tool. The ease of handling is the most desirable aspect every customer looks for when buying an electric slicer. These slices come in a wide range of size options. Each of them has its own pros and cons.
The larger electric slicers are effective at slicing a lot of food ingredients at once. They are versatile and offer a faster slicing experience. However, they occupy more space around. On the other hand, for slicing limited food ingredients, a smaller electric slicer can meet the needs. They are usually comfortable to handle.
Blade size:
The slicing output depends prominently on the blade size. The electric slicers with a big blade are perfect for slicing heavy-duty ingredients like meat. Due to the large size of the blades, the slicer can efficiently slice a huge chunk of ingredients in less time.
Those slicers with smaller blades are useful for cutting thinner pieces. For example, when you want to garnish a dish with salads or fruit pieces then go for the one with a smaller blade size. Moreover, the small size of the blade suggests that they are easily removable for cleaning.
Generally, the light-duty slicers have blades with size approx. 9-10 inches. The heavy-duty slicers have blades with size 12-14 inches.
Slicing thickness:
For customizing the thickness of slices, some electric slicers allow variation of thickness. The included control knob lets you adjust the slicing thickness from 0-15 mm. It becomes simple to vary the slicing thickness from super thin to extremely thick.
Safety:
The safety features like blade safety guard protect your finger while cutting. Some electric slicers have non-slip rubber feet for supreme safety and stability. The inclusion of cut-resistant gloves ensures complete protection of your hands during use.
List of 10 Best Electric Slicers Reviews in 2021:
10. Presto 02970 Professional SaladShooter: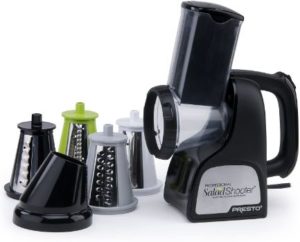 Now you can shred or slide a plethora of food ingredients with this Presto slicer. Use it to shred fruits, vegetables, cheese, desserts, pizza, and more. It is possible to chop nuts, grate chocolate, slice breads, etc. without much manual effort. All 4 processing cones are interchangeable. They are useful to make ripple slices, thick slices, super shreds, and medium shreds. A funnel guide is also available. Simply point and shoot where you need.
The large food chamber can store zucchini, whole potatoes, and more. The plastic housing makes the slicer unit durable and resistant to external damage. Every part is dishwasher-safe for easy cleanup.
Pros:
Dishwasher-safe for easy cleaning
Compact size for easy storage
Can make thin and thick slices
Why We Liked Electric Slicers?
We are pleased with its large capacity and power.
9. Anescra 200W Electric Deli Food Slicer: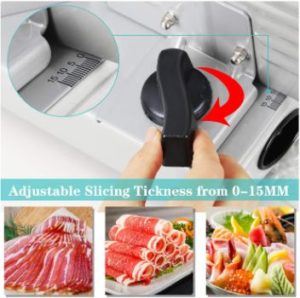 Any food ingredient you imagine, you can slice with this Anescra slicer. It is a versatile food slicer driven by 200W of slicing power. Operating with enough power and considerable speed, it always guarantees efficient results. Not just meats, it can also slice bread, cheese, vegetables, nuts, chocolates, and more.
The key components are the two 7.5-inch stainless steel blades. These blades come with enough sharpness and expert craftsmanship. One of the blades is serrated whereas the other one is non-serrated. They can cut raw food as well as cooked food. Generally, on the cutting surface of the slicer, debris accumulates. To prevent this, there is a detachable ring guard cover. For thorough cleaning, the blade, slide-rod extension, food carriage, and food pusher are removable.
Pros:
Comes with sharp blades
Easy to vary the slicing thickness
Can slice large ingredients quickly
Why We Liked It?
With the thickness control knob, it is easy to achieve the desired precision of slices.
8. Chefman Die-Cast Electric Slicers Deli & Food Slicer: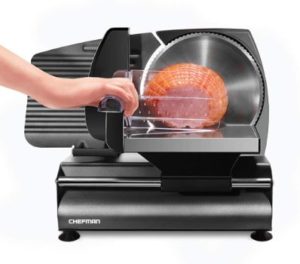 The quality of the blade determines how efficiently the food slicer can slice the ingredients. This Chefman slicer tool is equipped with stainless steel blade for sharp results. The non-slip feet keep the slicer stable. To keep the slicer in place, the slicer has non-slip feet, a food pusher, and a blade safety guard. Hence, you can obtain a firm grip while using it. The dial lets you vary the thickness depending on your needs. Use the on/off switch to provide extra safety. Hence, you can safely cut for a customized slice whenever needed.
Another admirable feature is the space-saving and compact design. This design accommodates this slicer in most countertops and cabinets. Especially this design is perfect for lunch prep or making party meals. Right from sliced fruit dishes to sandwiches, this slice is an apt choice. For simplicity of cleaning, the stainless steel blade is retractable and removable. To fully protect the slicer, there is die-cast aluminum housing.
Pros:
Sleek and space-saving design
Non-slip feet offer stability
Can make customized, clean slice every time
Why We Liked Electric Slicers?
The efficient motor and the blade let food glide smoothly through the slicer.
7. CUSIMAX Meat Slicers Electric Food Slicer: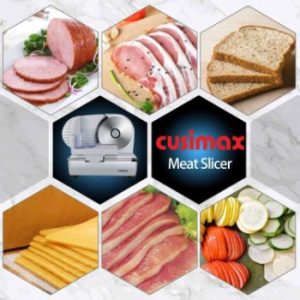 Equipped with a superior quality blade, this meat slicer always assures efficient results. It is a 200W electric slicer with thickness adjustable from super thin to 0.75-inch thickness. The ability to vary the thickness makes it ideal for slicing beefs, sandwiches, hard cheese, vegetables, fruits, and more. The knob helps you to easily adapt the slicing thickness. To keep the slicer tool stable, it has non-slip feet. The removable blade is dishwasher-safe, so it suggests ease of cleaning.
The slicing operation does not need lubricant. With the stainless steel 420 blade, you can always cut food in a precise way. There is no waste of food since it does not stick on the slicer.
Pros:
Easy to maintain and use
Food does not stick inside
Sharp stainless steel blade
Why We Liked It?
We are pleased with its versatility for slicing a wide range of food ingredients.
6. Elite Gourmet Ultimate Precision Electric Deli Food Meat Slicer: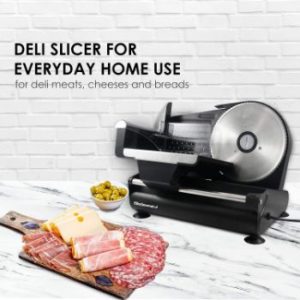 To slice a lot of food ingredients in less time and with less effort, go for this electric meat slicer. It is best suitable for various vegetables, fruits, various types of breads, salamis, and more. You can obtain extremely thin or thick slices as per the needs. After the slicing operation completes, there will be no much mess left around.
The 7.5-inch ultra-sharp stainless steel blade is the key component of this tool. This blade is retractable, removable, and rustproof. So, you can slice food with great precision and comfort. Being removable, cleaning is simplified. The ability to vary thickness helps you customize the slice thickness from razor-thin to 0.5-inch thick. The huge slicing platform is equipped with non-slip rubber feet. These feet make the slicer stable and safe.
Pros:
Great cutting precision
Excellent sturdiness and stability
The thickness of slicing is customizable
Why We Liked It?
With a wide range of thickness, it works great for slicing various types of food.
5. Homdox Electric Slicers Shredder: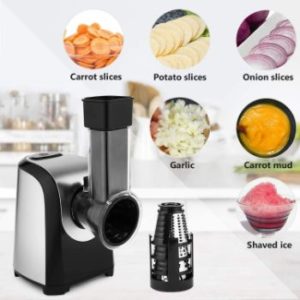 What makes this Homdox electric slicer stands out from the rest is its one-button operation. With the touch of a button, you can now obtain a sliced version of your ingredients. The built-in 150W motor quickens the food preparation. Using this shredder, you can grate chocolates, chop nuts, slice breads, and more. There are 4 interchangeable stainless steel cones. They are multipurpose since they assist you to slice in varying thicknesses. For instance, they can be used to prepare regular slices, ripple cuts, thick slices, and more.
The body of this slicer resists stain and lets you clean it easily. Most portion of the slicer is dishwasher-safe. Being BPA-free, it is sure that you enjoy healthy food.
Pros:
Saves time and effort
Stain-resistant and easy to clean
Fits well in a small space
Why We Liked Electric Slicers?
We admire the petite and lightweight design helping you to accommodate it on a tabletop or countertop.
4. 200W Electric Deli & Food Slicers: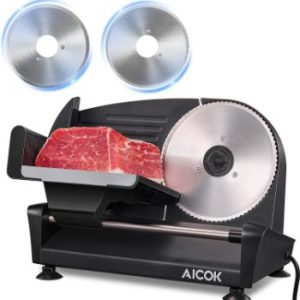 It is now possible to quickly slice raw food and cooked food with this deli & food slicer. It contains a smooth blade and two serrated blades. The serrated blades are made up of 304 stainless steel for precise cutting. Depending on your need, make a transition among the blades. The 200W of slicing power lets you slice most types of food ingredients. For instance, you can slice meat, turkey, beef, bread, cheese, and more.
Use the control knob to vary the thickness from 0 to 15 mm. Choose the most suitable thickness to maintain a consistent cut every time. The on/off switch avoids power shock.
Pros:
Stays stable on most surfaces
Maintains consistent sharp cut
Fast cutting yield efficient results
Why We Liked It?
Throughout the slicing operation, the slicer stays in place.
3. SuperHandy Electric Meat Slicers: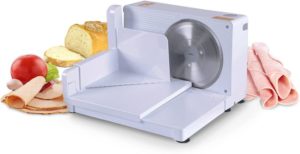 Make delicious recipes with precise slices of food anywhere, anytime. This SuperHandy electric meat slicer comes in a collapsible design for ease of storage and transportation. The built-in motor and the stainless steel blade are the prime components that make the tool efficient. The size of the blade is 6.7 inches and it is removable. The food deflector and food pusher are also removable for hassle-free cleaning.
Pros:
Can slice soft and hard ingredients
Feet offer stability and strength
Sleek and collapsible design
Why We Liked Electric Slicers?
The safety lock protects your fingers and palms during slicing.
2. NutriChef 3-in-1 Electric Slicers Spiralizer: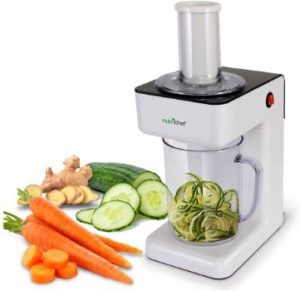 Surprise your guests with vegetable garnishes, finely chopped salads, pastas, noodles, and more with this NutriChef food spiralizer. It is a 3-in-1 tool that can chop, slice, and prepare gristly spirals. There are 3 cutting blades –fine chop, coarse, and spiral style. Switch to any of these blade types based on the type of ingredient you want to slice. The quality ABS plastic construction ensures longevity. Moreover, the included bowl's capacity is 1.2 liters.
All accessories are removable from the main body of this slicer. They are namely cutter blades, feeder chute, food plunger, beaker, and drive sleeve.
Pros:
Comes with 3 sharp blades
Can collect slices in the included bowl
Does not take up much space
Why We Liked It?
The spirals of varied thicknesses boost the child's appetite.
1. Chef'sChoice 609A000 609A Electric Meat Slicer: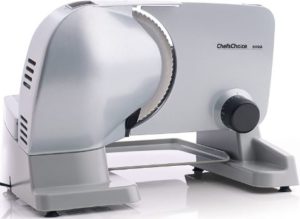 Are you looking for a multipurpose food slicer? Well, you can use this electric meat slicer equipped with quality stainless steel blades. The blades can make very thin slices as well as thick slices of size 0.75 inch. The use of stainless steel and cast aluminum makes the tool durable. The components like food carriage, blade, thickness adjustable plate, and food pusher are removable. So, cleanup is always easy.
Pros:
Accurate thickness control
Smooth gear-drive for easy operation
Efficient output with high torque motor
Why We Liked Electric Slicers?
The blades glide smoothly on food ingredients.
Concluding Note:
These topmost electric slicers save significant time and effort. They let you enhance your culinary talents and prepare delicious recipes with desired slicing thickness.