A pincushion is a tiny, stuffed cushion, usually 3-5 cm wide. The pin cushions are extensively used in sewing to keep needles or pins in place. Their heads protrude out so that they collect pins easily, and keeps them organized. Not just pins but a pin cushion can organize needles, paper clips, nails, and many other tiny metal objects. The effective organization of these small objects makes the pin cushions very famous.
Generally, the pincushions are firmly filled with the stuffing to rigidly hold pins in place. Some pin cushions come with magnets to make sure the tiny objects are perfectly aligned and organized. The pin cushions are widely used by DIY enthusiasts. It is possible to customize their shape, design, and other aspects, according to your needs. Instead of settling up for a simple red tomato every time, you can prefer colorful cupcake design, coated in marshmallows. The design ideas are endless for pin cushions. Continue reading the article below to know more about the best pin cushions:
List of Best Pin Cushions Review in 2020:
10. Mini Grabbit Magnetic Pin Cushion:

This mini pin cushion is identical to the original Grabbit. It is made cuter in design and smaller in size. It effectively organizes pins, nails, paper clips, and other metal objects you want to collect. This mini Grabbit pin cushion perfectly fits inside the middle of the standard-sized BobbinSaver. Consequently, it allows you to combine two great sewing tools into one. Even after combining, there is no additional space occupied. Those who are looking for a space-saving magnetic pin cushion, this product is a good choice.
In addition to using in a sewing room, it can be placed at your desk or table or kitchen drawer, etc. Moreover, due to its compact size, it can be easily carried with you on travel. There is the availability of three color choices –red, blue, and yellow.
Pros:
Does not occupy excess space
Great for travel
Can pick paper clips, pins, nails, and metal objects
Why We Liked It?
We are pleased with the neat organization of pins, needles, and other small objects. Whenever needed, these tiny objects can be accessed easily. For applications with limited space, this magnetic pin cushion is recommended.
9. Magnetic Wristband for Sewing Pins: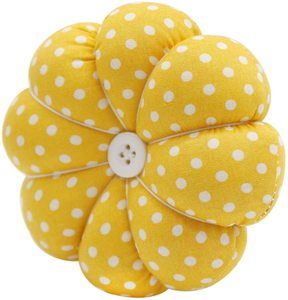 What makes this magnetic cushion unique is it comes with a wristband. The included magnetic wristband is cleverly designed to keep needles and pins handy. When you are sewing, this pin cushion helps a lot to keep these tiny objects in close reach. The implemented magnetic face not just firmly holds the pins but it also presents a chic appearance. Easily, you can keep your sewing accessories handy, to save time. Generally, this magnetic wristband cushion is found perfect for all sewers.
For quilters, it is a perfect gift. It proves to be a must-have sewing accessory for sewing kits and sewers. In addition to holding pins, it can organize needles, embroidery needles, darning, cable hair clips, and bobby pins. Furthermore, it can hold nails for crafts projects.
Pros:
Strong magnet perfectly holds needles and pins
Can hold tiny steel accessories
Hands-free use
Why We Liked It?
The strong magnetic force firmly holds pins and other sewing accessories. Whenever needed, you can quickly pick up several pins simultaneously.
8. YISTA Wearable Pumpkin Sewing Pin Cushions: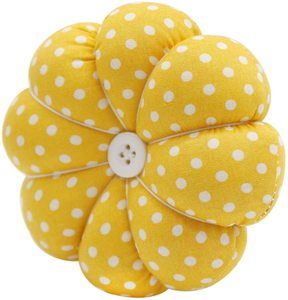 The YISTA wrist pin cushion as mentioned above is famous for its unique design. It is beautifully prepared in a cute pumpkin-shaped design. The design conveys an eye-catching pattern. This wrist wearable cushion is suitable for use on both the sides. The presence of an elastic wrist band provides hands-free use. This facilitates you with comfort during needlework. This wrist band is adjustable and available in elegant fabric colors.
Taking a look at the material used, it is made up of superior quality cotton fabric and there is polyester padding. The sturdy construction makes sure this pin cushion can collect the pins and needles easily. After collecting, it provides ease of access, so you can find the required accessory easily. The overall size is handy for the sewing basket.
Pros:
Suitable for many different applications
Elastic wrist band for hands-free use
Attractive and cute design
Why We Liked It?
This wrist pin cushion is perfect for embroidery, sewing, DIY craft projects, and quilting pins needle holder. It presents a safe place to organize your pins and needles. It is a perfect gift for kids, adults, and old-age people.
7. Bohin Wrist Pincushion, Black Velvet: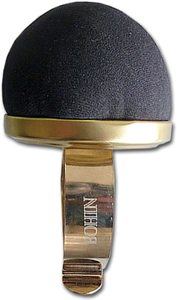 The sleek, velvety design is the unique trait of this wrist pin cushion. It is meticulously prepared from high-quality fabric. The sleek, classy design presents a beautiful look. You can use this Bohin pin cushion while working on a sewing project. It can neatly organize all your loose needles and pins.
Due to a neat organization, it is easy to pick the required object whenever you need it. In this way, you can keep your sewing accessories handy. There are no problems even if you have tiny wrists. Simply slide it a little more up your arm.
Pros:
Smooth nylon construction
Holds pins easily
Adjustable design
Why We Liked It?
We admire the sleek, beautiful design of this wrist pin cushion. It is made up of high-quality cotton fabric and neoprene.
6. eZAKKA Polka Pumpkin Wrist Band Pin Cushions: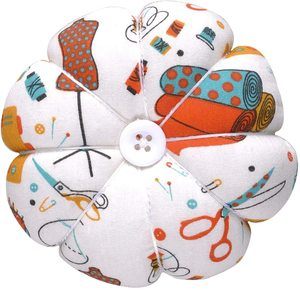 The eZAKKA pin cushion mentioned above presents a safe place to store pins and needles. Now you can keep these objects within reach. During sewing projects or other craft projects, it proves highly useful. There is the availability of polyester padding throughout the cushion. This padding makes sure the cushion can safely hold the pins or needles in a place.
The adorable pumpkin-shaped design conveys a fashionable appearance. The enticing polka dot and adorable pattern make the design more beautiful. This beautiful design makes it is a perfect choice for women and girls. The overall size seems comfortable to pack in a sewing basket and carry around. The included elastic wrist band keeps your hands free during sewing or needlework.
Pros:
Easy to carry along
Provides a safe place to store needles
Perfect gift for kids and adults
Why We Liked It?
Right from kids to old-age persons, this cute pin cushion is a good choice. It provides a neat organization of pins and needles. The handy size offers portability.
5. The Zirkel Magnetic Pin Cushion: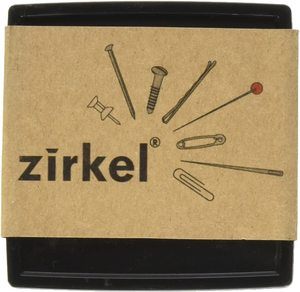 When the need arises to hold plenty of pins or needles, you can use this magnetic pin cushion. It comes with a large capacity to hold a ton of pins, needles, nails, and other tiny objects. The implemented magnetic force makes sure all these small objects perfectly hold in place. If you drop the pins pointing downward, they will arrange automatically with the heads out.
This Zirkel magnetic pin holder makes up of cotton. For easy pickup, the cushion repels items to the external edges in a sunburst pattern. There are no hassles regarding pins getting lost.
Pros:
Can hold plenty of pins
Perfect for holding quilting pins
Easy access to pins
Why We Liked It?
The included magnet is very strong and it works far better than our imagination. The pins and needles space out evenly and they are easy to access.
4. Grabbit Magnetic Sewing Pincushion, Red: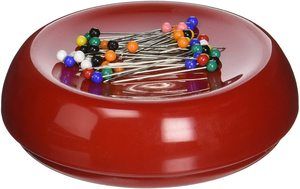 Designed in elegant red color, this Grabbit magnetic sewing pin cushion is equipped with a large capacity. It can easily hold 50 plastic headpins. The integrated powerful magnet clears up pins from a distance. Moreover, they align them into an ordered pile. Due to a neat organization, it becomes easy to access the required pin. It is quite easy to grab a pin or you can drop the pins over the magnetic base. There is no time wasted behind pushing pins in a cloth cushion.
This Grabbit pin cushion is an excellent organizing tool not just for sewing but also for organizing screws, nails, paper clips, nails, or other metal objects. All these tiny objects are securely held in one place.
Pros:
Powerful magnet perfectly organizes pins
Magnet allows easy cleanup
Holds objects securely in one place
Why We Liked It?
We admire the effectiveness of organizing the pins and other small objects. The trivial bowl surface and round shape fit perfectly in your hand.
3. Grabbit Magnetic Sewing Pincushion, Teal: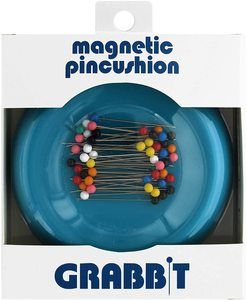 Equipped with 50 plastic headpins, this Grabbit tool is famous for its large capacity. Its structure incorporates a dominant magnet that neatly organizes the pins into an ordered pile. Whenever you want, you can grab a pin and pull it. No need to stop working to take out pins into a cloth.
Besides sewing, this pincushion is widely used for organizing tiny objects like screws, nails, and paper clips. The height and diameter are appropriately sized.
Pros:
Includes different colored plastic heads
Easily organizes pins and nails
Powerful magnetic effect
Why We Liked It?
It is quite easy to organize and access the pins. We liked that it prevents bobbin threads from unwinding.
2. Grabbit Magnetic Sewing Pincushion, Black: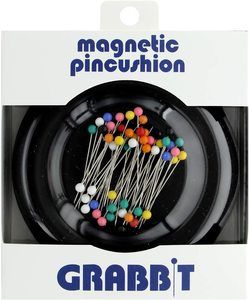 Now you can neatly organize pins, needles, nails, and other small objects very easily on this sewing pin cushion. It can hold 50 plastic headpins. These tiny objects arrange in an organized pile. Weighing just 0.32 ounces, it is easy to carry it along. You can take it to a sewing class or travel destination.
Pros:
Keeps small object stay in place
Allows easy access
Available in a wide range of colors
Why We Liked It?
There is no time wasted on pushing the pins in a cloth cushion. Besides, there is no thread tangling issue.
1. Dritz NR-356 Tomato Pin Cushion: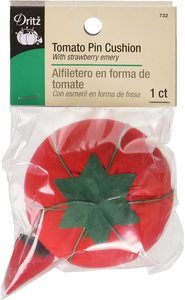 This tomato pin cushion can keep needles and pins close at hand. The stylish tomato shape makes it suitable for people working on sewing projects, crafters, and quilters. You can use the included emery to sharpen and clean hand needles and pins. This pin cushion with strawberry emery offers a safe place to neatly organize your pins and needles.
Pros:
Beautiful tomato shape
Perfect size for use as a machine needle minder
Durable and attractive design
Why We Liked It?
The classic tomato shape makes it look eye-catching and elegant. We are pleased with the easy accessibility of pins and needles.
Key features to consider for the best pin cushions:
Without understanding the important aspects, it becomes difficult to pick the best pin cushions. So, take a look below:
Ease of organizing:
Not all pin cushions benefit you with ease of organizing. To save your time and manual efforts, it is better to go for a pick cushion that allows the simplicity of the organization. The objects like pins, needles, paper clips, etc. may get lost if not organized properly. Look for a pin cushion that easily and effectively organizes tiny objects. Also, it must allow you to quickly pick up several pins simultaneously. After thoroughly looking at the specifications, you can easily choose a suitable pin cushion.
Design:
The design holds the utmost importance when it comes to purchasing a pin cushion. The best idea is to look for space-saving designed pin cushions. They usually don't occupy much space and can be easily transported, whenever needed. Moreover, they keep your pins and tiny objects handy. So, you can easily find the required object, without wasting time.
It is better to go for a pin cushion with a travel-friendly design. To complement it with your decor, you can choose the attractively designed pin cushions with cute patterns. With careful research, it is easy to choose an elegant pin cushion that appears cool.
Capacity:
The choice for pin cushion can vary depending on the number of pins you want to store. For commercial sewing projects or other professional use, you may need to store a vast number of pins and needles. In such cases, a pin cushion with huge capacity is desirable. Depending on the things you want to safely store inside, you can decide on the capacity required. Avoid buying a pin cushion that comes with limited capacity and prevents you from easily accessing these tiny objects.
Concluding Note:
These pin cushions are famous for always keeping pins, needles, and other tiny objects handy. They safely and effectively organize these petite objects. They allow you to perform your sewing tasks more conveniently.