In simple terms, a plier is a tool for holding tiny objects. It can bend and cut the wires. The new form of these tools is the slip joint pliers. They are pliers whose fulcrum is movable to raise the size range of the jaws. Most of the slip joint pliers implement a system that enables the sliding of the pivot point into a position when the pliers are entirely opened.
Generally, these tools are practical for holding or twisting flat or circular stock. Moreover, they can loop a wire, fold sheet metal, trim soft wire nails, and more. If you want to tighten or loosen a nut, a slip joint plier comes in handy. With the slot in the neck sliding between the two positions, the jaw size is easily adjustable. This feature employs a secure grip on a broad range of objects. Come out of confusion while shopping with the below selection of the best slip joint pliers:
Bestseller Slip Joint Pliers On Amazon:
Key Feature to Consider for Best Slip Joint Pliers:
Take help of these features while choosing slip joint pliers:
Size:
When it comes to the size of a slip joint plier, it's not just about its physical dimensions. It is also about the size of the jaws that determine what objects it can work with. Firstly, keep in mind that the slip joint pliers are available in a size range of 5 to 10 inches. Determine the purpose and choose the one within this size range.
For holding tiny objects, the one with a small size overall and small jaws will meet the needs. But to grasp the larger objects, you will need a much bigger plier. The teeth' configuration and their size are also vital to consider. A slip joint plier with uniformly spaced teeth can grip objects of different shapes and sizes.
Ease of handling:
A comfortable user experience is inevitable while you work with such pliers. Look at the handle configuration before making a purchase. It is better if you can get the one whose handles have non-slip, elastic grips.
The automotive repair or home repair tasks can be slippery. The plier's surface may come into contact with water, oil, and other fluids. If the grip is soft and comfortable then it lets you securely handle the plier in your hands. Though your hands are occupied with sticky liquid, you can still work with the plier.
Protection against corrosion:
One may need to use these tools anywhere indoors and outdoors. It is recommended to choose the one that is sprayed with a corrosion-resistant coating. With prolonged exposure to liquid, a plier can malfunction. So, the corrosion-resistant coating can prevent damage to the surface of the tool. Some of these pliers come with grease coating to avoid corrosion.
List of 10 Best Slip Joint Pliers Reviews in 2021: 
10. Channellock 526 6-Inch Slip Joint Pliers:

The appropriate grip is essential for holding objects of different sizes. This 6-inch slip joint plier is designed with serrated jaws. They provide maximum and a firm grip on various types of materials. This grip also offers extra wire cutting shear for the soft wire. On the surface, the special coating protects against rust. The forging process of this tool is done from U.S. carbon drop forged steel. It is durable as well as flexible.
The design shows the permalock fastener. They remove the bolt and nut failure. Moreover, they result in the enhancement of joint strength. For any old person who finds difficulty in opening a milk carton, this tool helps a lot. The head is slightly thinner than pliers from other brands.
Pros:
Helpful for old-age people
Coating resists corrosion
Firm and durable grip design
Why We Liked It?
We like the soft grip that ensures maximum comfort.
9. CRAFTSMAN Pliers, 2-Piece Groove Joint Set: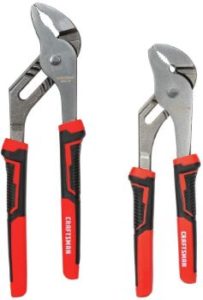 There are 8-inch and 10-inch pliers in this set. Both of them are devised from drop-forged steel. This material conveys enough sturdiness and durability. The bi-material grips offer excellent control and comfort. Based on the type of object and your needs, you can exert appropriate control.
The design depicts precision-machined jaws. They guarantee a secure grip for various objects. Therefore, these pliers are compatible with objects of various sizes and shapes. With these pliers, you can twist, hold, and cut objects of different dimensions. These pliers work perfectly to hold the inflexible hoses on the rear of washing machines. Furthermore, the elastic grips always feel comfortable on the hands.
Pros:
Great control throughout
Can cut in various sizes and shapes
Elastic grips feel comfortable in hands
Why We Liked It?
They support safe grip zones for comfortable handling.
8. TEKTON 6-1/2 Inch Slip Joint Pliers | 37122: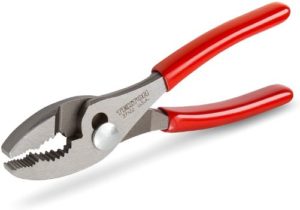 These Tektton slip joint pliers come with a 3-zone jaws grip. This grip conveys extra comfort and cushioning feel. So, the user feels so much convenient during the use. It is possible to use the pliers as nut and bolt fasteners. For that case, they enable fine-tuning of the tension. Glancing at the build quality, it is sturdier than slip joint pliers from other brands. The sturdy 4150 alloy steel is used in the construction. It eliminates bending and coiling, so the grip is always excellent.
The design shows a wide, circular handle profile. It evenly dispenses the force. Hence, it decreases pressure and stress on your hands. Since the teeth are evenly arranged, they can grip objects of most shapes. For instance, they can let the pliers perfectly hold the flat stock, tubing and pipe, square and hex fasteners, etc.
Pros:
No stress to hand during the use
No-slip rip offers cushioning effect
Can grab objects of different sizes
Why We Liked Slip Joint Pliers?
We admire the solid build quality and superior grip.
7. WORKPRO 7-piece Pliers Set – Slip Joint Pliers: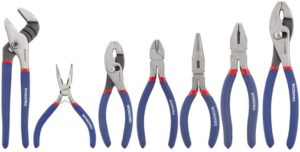 For DIY use, residential use, and commercial applications, this set comes in handy. The set contains a groove joint, slip joints, linesman, noses, and diagonal pliers. Analyze the type of project and the dimensions of the object. Accordingly, you can choose any of the included tools. The surface is encased with slushing oil for protection against corrosion. You can wipe off these pliers before use.
The drop-forged polished steel is heat-treated for superb durability. To ensure superb performance, the tools come with tough cutting edges. They also enhance the simplicity while cutting. On the handle, there is a double-dipped coating. As a result, it makes the handle's surface non-slip for comfortable handling. Use the diagonal pliers to quickly cut wires. The linesman tool comes in a rugged design. So, it can bend, grip and cut any cable. With the grooved joints, the width of the jaws is variable. Hence, you can customize how to grasp and turn the object.
Pros:
Perfect for indoors and outdoors projects
The handle comes with a soft grip
Resists corrosion
Why We Liked It?
We are pleased with the ease of cutting and ease of handling.
6. KNIPEX Tools – Cobra Water Pump Pliers (8701250):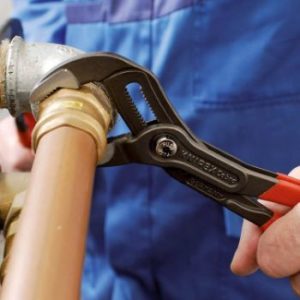 For cutting or holding objects of varied sizes, high precision is required. The aforementioned pump pliers guarantee high accuracy and performance. Every tool in the set is tested and proven for functionality and durability. The working mechanism is quite easy. Just align the upper jaw towards the workpiece. Now push the button and shut down the lower jaw. The pinch guard suggests that your hands will not experience blood blisters.
When using any plier, stability is vital. The tough gripping teeth and the self-locking fine-tuning make sure these pliers work steadily. Once they are set, they stay stable for a long period. You need not squeeze the pliers and you will not suffer from slipping issues.
Pros:
High efficiency and precision
Avoids blood blisters in hands
Stays in place
Why We Liked It?
Overall, it is quite comfortable and safe to handle.
5. Crescent Curved Jaw Combination Slip Joint Pliers:

The need may arise to grip and turn circular objects. For instance, you may need to deal with rods, pines, studs, and pipes. For those cases, these pliers are so much practical. The design represents bent jaws in combination with the precision-machined gripping teeth. These teeth are evenly spaced and can grab various sizes of objects. The pliers are built forged from carbon steel. They are heat-treated for exceptional durability. On the surface of each tool, you will find a vivid finish.
The knurled handles always feel comfortable to hold. A wire cutter is included. There are 2 jaw positions and the capacity of each plier is 1 inch x 25 mm. Overall, these tools are practical for mechanical, electrical, and DIY fixes.
Pros:
Can work on round objects
Stays durable for long
Knurled handles is comfortable to hold
Why We Liked Slip Joint Pliers?
They can open wide enough to capture the lids.
4. Klein Tools D511-8 Slip-Joint Pliers:
When you intend to precisely cut wires, you can take the help of these D511-8 pliers. For accurate wire cutting, they work as shear-type cutters. To meet the needs for different applications, the tools have 2 jaw positions. They confirm that the tools can handle various types of objects. The serrated jaws offer maximum gripping power. For extra durability, there is nickel-chrome plating.
The jaws can open wide open, so they let the pliers work for various wiring applications. During the use, take the help of the knurled handles for proper leverage.
Pros:
Plating boosts durability
Handles offer great leverage
Offers maximum gripping power
Why We Liked It?
We like the shear cutting action for high accuracy and performance.
3. Edward Tools Slip Joint Pliers 6" (Pack of 2):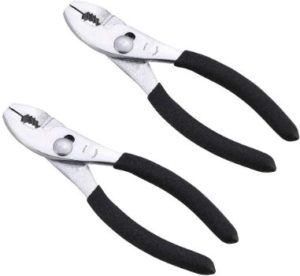 To ensure long-lasting performance, you can check the material construction of the pliers. These 6-inch pliers come in heavy-duty carbon steel construction. Despite being sturdy, it feels safe to use. At the front, there are fine grip teeth whereas the back has coarse teeth.
Due to the rubberized grip, it feels soft to touch the handle. Being non-slip, it ensures stability for your hands. For use outdoors, the manufacturer prepares them in a rust-resistant finish. The serration in the jaws is excellent to provide an outstanding gripping experience.
Pros:
The jaws provide good gripping
The handles come with padding
Great stability
Why We Liked Slip Joint Pliers?
For gripping and prying use, these pliers are perfect.
2. Slip Joint Plier – Channellock GS-3 3 Piece Pliers Set: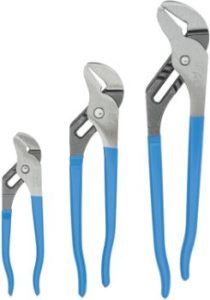 For residential use and garages, you can consider this tool set. Its forging process involves quality carbon steel. The teeth are aligned at 90°. Moreover, they are laser-treated to convey high performance. The PermaLock fastener solves the issues of nuts and bolts failure.
Due to the toughened edges, stress fissure issues happen rarely. The design shows grooved teeth and a straight jaw tongue. The coating is intentionally done to resist corrosion. The set contains 6.5-inch, 9.5-inch, and 12-inch tongue & groove.
Pros:
Long-lasting grip
Non-slip design guarantees stability
Reduces stress breakage
Why We Liked It?
Even after repeated uses, the set retains strength, durability, and functionality.
1. IRWIN VISE-GRIP Slip Joint Pliers:

To securely grab different types of objects, gripping strength is important. These IRWIN VISE-GRIP tools come with machined jaws for the highest gripping strength. To convey the efficient bite every time, the teeth are aligned at 90°. The quality nickel-chromium steel makes the entire construction robust.
The cutting edge retains sharpness even after frequent uses. The ProTouch grips are resistant to slip and pinch. They provide enough leverage. Henceforth, the user experiences less fatigue. All the components are well arranged for ease of use. Without costing much, these tools meet your needs and guarantee high performance.
Pros:
Adjustable jaws offer flexibility
Stays sharp for a long time
Reasonably priced
Why We Liked Slip Joint Pliers?
We like the robust build and excellent safety while using them.
Concluding Note:
The slip joint pliers are effective at gripping tiny and huge objects. They are compact yet come in a robust construction. They all have sufficient gripping power to steadily hold the object in place.